Meet the Team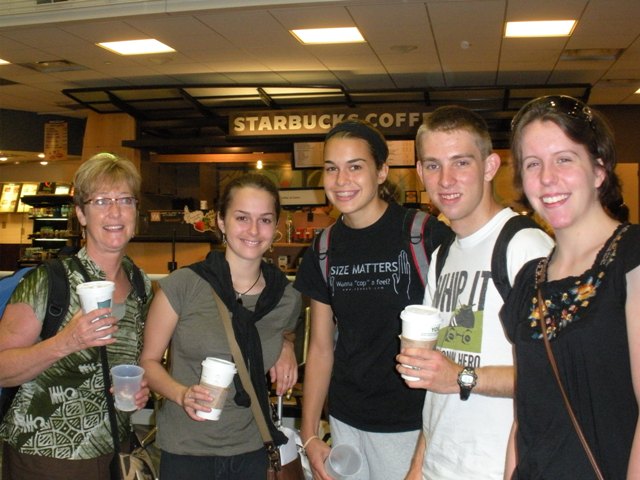 Janaan Decker


Janaan Decker is the Student Services Coordinator for the Meijer Honors College, as well as the Coordinator for the trip.

Leena Karsan

I am Leena Karsan, the Living Center Director for Niemeyer Honors & Calder Arts. I have been working at GVSU since June 2009. I received my Bachelor of Science in Communication/Psychology at Eastern Michigan University and my Master of Education at the University of South Carolina in Higher Education Student Affairs & Administration.

I am very excited and grateful to have the opportunity to join the Honors College Service-Learning trip to Ghana. This experience is going to be very eye opening and allow me to really learn and grow and overall better connect with my students in the future.

Annie Hakim


I am a senior at Grand Valley majoring in International Relations and minoring in Spanish. At GV I work as a resident assistant in the 'International House/PERL' community. I also tutor in Spanish, and recently completed an internship at the Hispanic Center of West Michigan. However, in the past few years I have spent the majority of my time working through the GVSU Honors College to help set up a new service-learning study abroad trip in Ghana Africa, as well as starting and implementing the GVSU/Ghana Clean Water Initiative. This summer I will be spending 3 months in Winneba, Ghana volunteering with public health education programs and installing bio-sand water filters alongside nearly 300 Ghanaians.

Eric Nodge


There is only so much you can learn from books; for years, I've been reading about international affairs and now I finally have an opportunity to experience the world in person! I look forward to working with Challenging Heights and the other organizations Grand Valley has connected with, experiencing a world completely different from the one I'm used to, and learning all I can from the people I interact with while I'm there. I'm hoping my travels will give me a unique new perspective on life and that I can share the important things I've learned with the rest of campus in the fall.

Meredith Elizabeth Osborne




Ever since I participated in the Community Working Classics program, a community based service-learning program, I have been keenly aware of local and global social problems. Since my experience working with Job Corps students, teaching a women's studies class, I have been instilled with a desire to create positive social change. I am never afraid of a challenge, and I love working with people, for people! Ghana fell onto my lap very recently, and I am so excited to once again travel across the world for causes I believe in – I love to be inspired and motivated. Eventually, I hope my path leads to me law school so that I may apply what I have seen and experienced towards solving the civil rights violations that countless individuals and communities face.

Ross Ezinga


My name is Ross Ezinga. I am a third year engineering student with an emphasis in product design and manufacturing at Grand Valley State University. I am serving my engineering co-op semester abroad in Cape Coast, Ghana for the summer of 2010. This will be the first engineering co-op at Grand Valley that is abroad. I will be working with Dr. Kofi Sam, former housing minister under J.J. Rawlings. Dr. Sam is an engineer who designs and builds small facilities that allow villagers to make an income through palm oil processing, metalworking, and other sustainable processes. Through this, we hope to build a strong relationship amongst the engineering department at Grand Valley State University, the international center at the University of Cape Coast, and Dr. Sam.

Christine Sauer

My name is Christine Sauer, and I will be a junior this year. My major is anthropology and my minor is Spanish. After I graduate, I hope to continue with my education and study some combination of nutritional anthropology and the sociology of food. I also love to learn foreign languages, and would be thrilled to study another language (if time permits!)

My main interests are reading (I'm a total bookworm) and working out, so in my free time I'm either voraciously reading (usually a book about food, such as Fast Food Nation or Food Politics) or running.

The farthest I have travelled is San Francisco, so this trip will be a completely new experience for me. I'm so excited to be exposed to a different culture and a way of life, and I look forward to learning everything that the Ghanaians have to teach me. While in Ghana, I hope to learn how to live in the present and not worry too much about the past or the future. I can't wait to work in the orphanage and at the Challenging Heights school, but I have a feeling that the Ghanaians will teach me more than I can teach them. I hope my perspective on life is challenged and changed for the better.

Kaleigh Carlson

I am going to a sophomore this year and am majoring in Biology (pre-med emphasis) with a minor in International Relations.

I also run Track and Cross Country for Grand Valley and am involved in Campus Ministries.

I like to snowboard, read, and pretty much do anything outdoors in my free time.

I am traveling to Ghana to do something larger than myself. I want break out of my "West Michigan box" and really open my eyes to the "real world." I want to learn from this altruistic society there and, hopefully, overcome my narrow-minded and selfish way of thinking.

I have always dreamed of working with missions in a developing country, whether it would be medical or spiritual. I am not exactly sure what I want to do as a career, but I am hoping this trip will point me in the right direction.

Finally, I want to grow closer to God and show His love to these people. I hope I can give back to them a little of what they will give to me.

Beth Thimmesch

I was born in Wichita, Kansas. I moved to Grand Rapids, Michigan at the age of 11. After high school, I completed my undergraduate degree and master's degree at Grand Valley State University. I have worked professionally in the GVSU Housing and Residence Life Office for the past three years as an Assignment Coordinator and Apartment Director. In my free time, I enjoy reading, bike riding, and overall being in the outdoors. I am interesting and excited for the Ghana, Africa trip for the opportunity to travel to a new country, experience a new culture, work with GVSU students abroad, and take part in the activities scheduled for the trip.