Corporate fitness and wellness is no longer a "perk", but rather an investment in both the worker and the company. Companies save money by improving employee health, reducing absenteeism, turnover, and reduced health claims. Estimates show a return close to $3 for every dollar invested! Currently about 50% of all employers (with 50 or more employees) have some type of wellness and fitness program.Clearly there is a need for trained professionals to work in this area.
See more here
from a 2013 report. And more
here
from 2009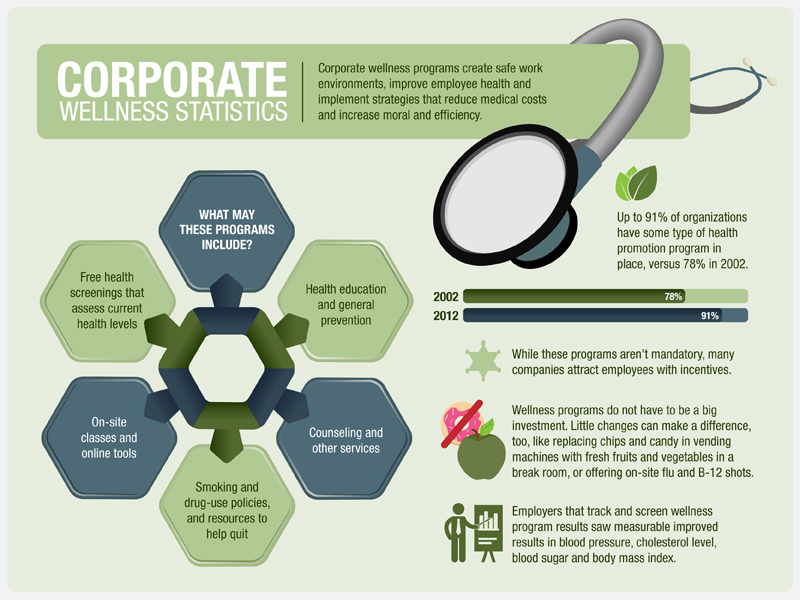 Job Responsibilities
The job of the corporate wellness professional is to help address the primary causes of high health care costs. These include:
Heart and Vascular Disease
Obesity
Diabetes
Smoking and Tobacco use
Cancer (due to environment and lifestyle)
Job responsibilities will fall into a few categories:
1. Health Screening- Biometrics.
In order to address health issues, one must first assess the employees to identify those at risk. Blood pressure, blood lipids, past and present history, job related risks, blood glucose, body fat, smoking habits, dietary habits
2. Exercise / Fitness evaluations
These may be submaximal or maximal tests using a variety of modes. Clients may be low risk or higher risk (most are higher risk).
3. Exercise prescription and supervision
Designing prudent exercise plans and then assisting individuals with their exercise.
4. "Other",
Including diet analysis and counseling, office ergonomics (i.e how to lift properly, posture, job related physical challenges)
Qualifications
B.S Degree in Exercise Science or Wellness-related degree
Ability to perform initial health assessments, risk stratification.
Ability to conduct fitness evaluations including: aerobic capacity, body composition, strength
Ability to lead group exercise.
Supervision of exercise, working with clients that have health risks (heart disease, diabetes)
Certification by ACSM, NSCA
Also
Oral and written communication skill, create newsletters
Ability to instruct and educate clients
Interpersonal skills to work with a range of individuals
Pay
Similar to other wellness settings, entry level pay is in the mid 20's, with B.S prepared first year employees averaging about $ 29,000. Program managers average about $48,000. These salaries will vary by region and size of program.
Here are a few links to gain salary information:
Medifit Corporate salaries
Corporate Fitness Works Salaries
Employer (jobs) examples
Corporate Fitness Works
Wellness Coordinator/Exercise Physiologist
Tracking Code

1430

Job Description

Corporate Fitness Works is looking for an experienced wellness professional to provide superior health, wellness and fitness programming for a corporate health and fitness facility. Responsibilities include, but are not limited to the following:

Coordinate and administer physical capability testing
Coordinate exercise training and exercise testing programs
Provide individualized exercise testing and programming
Deliver exceptional internal and external customer service
Manage reports and data outcomes
Establish and measure health and fitness goals
Deliver health promotion services
Provide timely communication and reports
Maintain fitness and testing equipment

Required Skills

Experience with public speaking, health coaching and health education
Personable; positive attitude
Strong interpersonal communication skills required
Strong organization and business writing skills required
Excellent computer skills; Word, Excel, and PowerPoint

Required Experience

Bachelor's degree in exercise science, exercise physiology, biomechanics, motor control, etc. required; Master's degree preferred
ACSM Health Fitness Specialist Certification preferred
NSCA Certified Strength & Conditioning Specialist preferred
Experience with exercise testing and exercise program development
Experience with wellness programming in a professional setting
CPR, First Aid and AED certification required

Pre-employment background check required

Equal Opportunity Employer Minorities/Women/Veterans/Disabled

Job Location

Evansville, Indiana, United States
Medifit Corporate Wellness
We're seeking a

Health Fitness Specialist

to assist at our fitness center.

As our new Health Fitness Specialist you will:

·

Supervise and monitor exercise participants.


·

Perform fitness assessments, determine exercise prescriptions, and design workout programs for a diverse population, including a variety of high risk clientele.


·

Provide one-on-one consulting, training and motivation.


·

Design & Implement of incentive, health promotion, and other specialty programs.


·

Instruct of group exercise classes.


·

Perform administrative tasks associated with facility operations.


·

Other duties as assigned.
MediFit only hires the best!
Fun is a huge part of our culture. We enjoy the camaraderie of others; we laugh and savor the journey. As a MediFit Health Fitness Specialist, you'll join our nationwide network of enthusiastic professionals who collaborate with the top minds in the industry on a daily basis. Our community takes advantage of some of the most current internet tools, including personal web pages, instant messaging and Google + to share their excitement about fitness and wellness. We make a difference in people's lives. If you are one of the best, we want you to help us do it. Join us!


Qualified candidates must possess all of the following:

· Outgoing personality and excellent communication skills
· Superior customer service skills
· CPR/AED certified (Current)
· Bachelor Degree (Exercise related field)

We need you!

We want to add your spirit and distinctiveness to our own. Together we will innovate and create new and special ways to achieve meaningful and lasting behavior change for our members. It is your passion that drives you and we love that.
Join MediFit, Build a Career!
At MediFit you will have boundless opportunities for growth. Most of our leadership team began their careers working as fitness professionals in fitness facilities. Wherever you go across the country, a career with MediFit will provide you with the opportunity to learn from the best and continually advance your career.
We offer great benefits!
MediFit's mission is to help people live healthier, happier lives. We believe that begins with our team members and ends with our clients. To show our dedication we provide a broad array of benefits to eligible team members. Some of those benefits include medical, dental and vision coverage, 401K match, flexible spending plans, employee recognition programs, commuter benefits and one of the most flexible and generous paid time off programs in the industry.