Hobbie and Interests

Every individual should seek to expand their interests, skills and perspective in this world. I remember being a student, and not having a whole lot of time to spend outside my specific studies, but as I became a "professional" I spent more time becoming familiar with other fields. I believe it gives one a deeper understanding of our world and our place in the world (that's what your Gen Ed classes are trying to do... so pay attention in them!)
Develop your MIND BODY and SPIRIT!!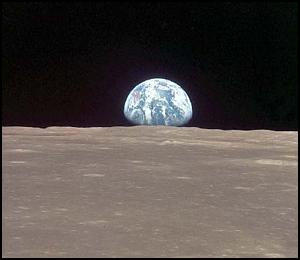 Interests:
I enjoy reading, and read about 1 book per month. I read biographies of any type, science related books, history, christianity, computers, geology and physics (my Dad was a physicist, and is now science fiction writer). The last books I read :


Fiction

Biography/ History


Christian

"Other"

-Across the Nightengale Floor,
-Grass for His Pillow,
-Brilliance of the Moon (trilogy about a boy struggling during the samuri wars in japan)

- The DaVinci Code (bogus baloney.. but a good read)

- A Painted House (J. Grisham)
- The Broker (J. Grisham)

- 5 people you meet in heaven

- Chronicles of Narnia Books 1-3 (i.e. The Lion, the Witch and the Wardrobe. Read, then gave to my 12 year old daughter)


- Biography of William Smith ("father" of modern Geology)zzzzzzzz

- Benjamin Franklin (this guy was very cool)

- Riding Rockets - (biography of a space shuttle astronaut through the 1980's &90's

- Duel in the Sun - (covers the lives of Alberto Salezar and Dick Beardsley and their famous 1982 Boston marathon race)

- Cook (Details the explorations of Captain Cook)


- Off the Planet-(Jerry Linenger's account of life in the Mir Space Station)


- Little Crow: Spokesman for the Sioux (eastern sioux of Mn during mid 1800's)


Brave Companions: Portraits in History (outlines key figures in the history of exploration and discovery)

- A Case for Christ (Lee strobel What an awesome book, especially for fact-minded science guys. provides fact-based evidence for Christ's appearance)

- Wild at Heart(cool book, I read it while hiking and climbing. It provides good evidence that man is by nature a wild, energetic, exploring and crazy dude! So why be a wimpy Christian?)

- Searching for the Invisible God (Feeling the presence of God in a world that isn't exactly tuned in to Him)

- A Purpose Driven Life (Good book. Cliff Notes: "It's not about you")

- Freemasons (zzzzz.. never did finish it)

-Atlantis Found (a "Dirk Pitt" book.. Fun!)

- Treasure (another Dirk Pitt book... like the movie Sahara.) Ok... and about 6 other Drik Pitt books.. I'm in a 12 step program to stop!

- How We Die (interesting book)

- Clinical Exercise Physiology (must educate self grasshopper)

- Confessions of an Economic Hitman(discusses the US role and economic "influence" in developing nations.. not our best hour!)


- The Alchemist (classic)


- A New Earth - Eckhart Tolle


Liberal Arts

COIS Community Reading Project

.

.

The World is Flat-

Thomas Friedman



Hot, Flat and Crowded-

same



Collapse-

Jared Diamond



Biology of Belief

The Varieties of Religious Experience- William James (whew)



Ishmael -

Daniel Quinn

The End of Poverty- Jeffery Sachs



Field Notes from a Catastrophe: Man, nature and Climate Change-

Elizabeth Kolbert



The Glass House





The Kite Runner





Long Way Gone





Three Cups of Tea



The Immortal Life of Henrietta Lacks

.

.


Outdoors!!
Psalm 46:10 (look it up)
Love to camp, backpack, hike, climb, kayak and about any other outdoor adventure there is!

| | |
| --- | --- |
| 2004- Climbed Mt Elbert, highest mountain in Colorado(14,430ft) | |
| Hiked in the badlands of ND (hot!). Saw the Petrified forrest | |
| Hiked in Nebraska (Scottsbluff.. Oregon trail) | |
,
Rocky Mountain National Park- Colorado (great hiking and climbing)
Crater Lake National Park- Oregon (1-2 day visit. Nice hiking, bluest lake you'll ever see!)
Theodore Roosevelt National Park- North Dakota (stay in Cottenwood campground, hike into the wilderness and see buffalo!)
Arches National Park - Utah (bring water! Be sure to hike back in to Delicate Arch)
Next up..??.. 2-3 day Kayak trip along a portion of the Missouri where Lewis and Clark traveled (in Montana)
How about camping on Isle Royale just of Michigan's coast? Any suggestions?
top

Hobbies
Lapidary, which is the art of carving and shaping stones into jewelry and Tae Kwon Do, a korean martial art. I competed a lot in Tae Kwon Do while in college, and even qualified for Nationals in 1985. I have taught both children and adults since 1984, and had my own "Dojang" for 7 years while living in Nebraska, and for 2 years while still back home in North Dakota. For 3 years (up until March 05) I taught TKD within a church setting as a Christian-based character development tool. I also teach it as an activity class for college students here at GVSU and train the women's golf team (look out golf ball!). I spend less time doing TKD now and more time training myself with weight lifting and running (taking some 'me' time)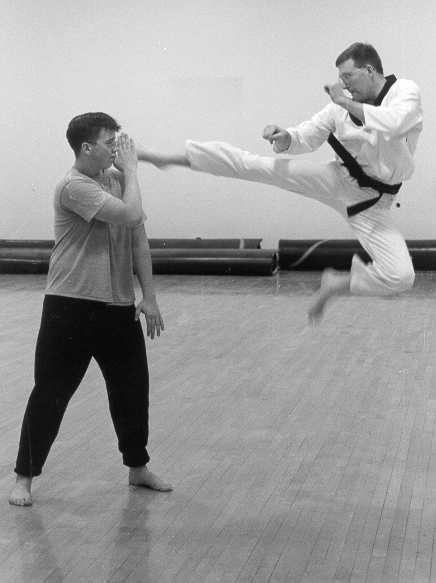 Lapidary
Steps in the Process of Making Jewelry

Lapidary involves the cutting of rock into slices, or slabs. The stones are then shaped and polished into stones set in jewelry setting. Below is the sequence for creating a piece.








| | |
| --- | --- |
| | Step 1: Using a metal template, draw the shape that you wish to create |
| | Step 2: using a diamond saw, cut along guidelines to cut out the rough shape of the stone (water used as coolant.. messy!) |
| | Step 3: Grind the sides of the stone using a silicon carbide grinding wheel and shape to the exact dimensions you had drawn from the template. |
| | Step 4: Mount(glue) the stone to a large nail. Proceed to grind the top of the stone until you have a nice rounded dome. |
| | Step 5: Move to a sanding wheel, and sand the stone using 220, 400 and 600 grit sandpaper (diamond coated). Lots of water used.. messy. |
| | Step 6: Polish using a leather polishing wheel covered with a polishing compound. |
| | Step 7: Soak overnight in a glue dissolver (yuch), then place into the setting. DONE! |
top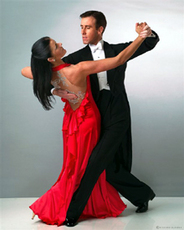 Ballroom Dancing
After getting married in 2006 to a woman who had danced in the past... she hoped that I would take up ballroom dancing. Since I had just "retired" from teaching martial arts in 2005, I gave it a shot. I have been at it for 4 years at Arthur Murray, and am at the SilverI level now. There are a number of dances to learn! Below is a list of the ones I currently practice (to varying degrees of ability).